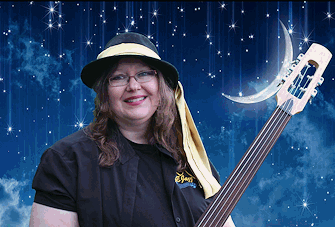 To sum myself up, I am a wife, mother, writer, and musician, and the order of those things will depend on what day it is.
Friends tell me that I lead a busy life, and I suppose that's probably true. Yet, even above all my music affiliations (jazz band and an Elton John tribute band) (see the photo, that's me in my jazz band uniform), writing is my passion. I remember the first book I wrote, back in middle school – on a clackety old manual typewriter. It was uniquely based on a pre-teen girl named… Gail… and her 3 best friends, all of whom shared the same names as my own best friends. Despite dangers and unknown perils, we raced against time following cryptic clues to seek a precious treasure in a haunted mansion before the ghosts, police, and relatives of the deceased owner of the house caught and locked us in the damp, dreary cellar until we perished.
I can't remember if we found the treasure, but I have to assume we did. After all, I'm here to tell about it.
My writing has changed a lot since then (good thing!) Now I write romantic comedy, and many books I've written are part of a series, either my own, or with other authors. I love to continue a story, to make a new book with the story of a minor character from a previous story.

When I'm not writing, I love to take pictures. My primary targets, I mean volunteers, are usually my family, pets, friends, and bandmates.

Introducing, my family!
This is my husband on one of our camping excursions. I had to use this picture because he wouldn't let me use the one of him with the pigeon sitting on his head.
This is my youngest son.
He likes the camera more than he lets on.
This is my middle son at his grad. Notice how dignified he behaves when he sees the camera. He is now an assistant manager at WalMart. Go figure.
Here is my oldest son. The reason
he looks so happy is that I caught him in the kitchen snitching food.
Introducing, my music!
I play bass for Elton J – an Elton John tribute band. Recently we played at the Langley Ribfest, which was the first time I've ever played with a larger-than-life monitor beside the stage.
I also play bass for the Golden Ears Jazz. Here we are posing on the bridge at the Maple Ridge Garden Club Celebration. As you can see we are a fun bunch, as evidenced by the guitarist making rabbit ears behind my head.
I played snare drum for the Santa Claus Parade because my bass was too big to carry, and of course, you can't play electric instruments for a parade.
This is me with my acoustic double bass.
This was taken backstage before a concert when I played for the Little Night Music Orchestra.
For classical music lovers, here is a link to a concert from a few years ago when I played acoustic bass with Little Night Music Orchestra. If you are looking for me, there are 3 acoustic string bass players to the far right on the screen, that's me in the middle.
Before I close off, I want to tell you about a thought-provoking bumper sticker I once saw. Close your eyes for a second, and imagine your favorite/dream car. Now for the bumper sticker. "Don't let the car fool you. My treasure is in heaven."
The bumper sticker on my own car (which is a fuel efficient economy car) says "Everyone follows the bass player", but my treasure is in heaven, too. If you want to find out about this treasure, email me, or, if you want, follow this link.