Welcome to the world of writing!
Whether you are new or multi-published, the learning curve never stops. With changing trends and audiences, we see that what worked or was popular even a few years ago often no longer works today. Some books and movies are timeless and keep a reader glued from any time and any generation, but that number is very small compared to the millions of books out there.
For most of us, we need to keep on that curvy road, and there are lots of ways to do that. First, join a writers group, either online, or in person, or both. Then take classes, either online, or at conferences.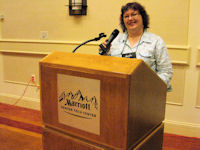 Here are the writers' workshops I've got lined up to teach this year:
Golden Ears Writers – Critiquing 101 – January 2019
The Creative Ink Festival – Scene and Sequel – March 2019
Here are a few writing organizations and/or conferences I recommend.
ACFW – American Christian Fiction Writers
OCW – Oregon Christian Writers
Surrey International Writers Conference
When it comes down to the basics, there are many things a writer needs to do to make the words flow and the plot build.
Here are some of the topics I've covered in workshops at various writers conferences I've attended, or articles. These are some of the things all writers need to master to make their story grab a reader. Please click on the topic for an article or a summary and some of my workshop notes. (if I don't have it posted yet, that's a work in progress, please come back.)
• Hero, heroine, and villain archetypes – use them, choose them, but don't abuse them.
• Interior monologue – make your interior monologue effective, and realistic to your reader
• Outline on a Clothesline – one method of outlining that will help you multilayer your story, add subplots, balance scenes, and advance your plot.
• POV – nail POV so it's solid and in characater, for an entire scene, with no headhopping, and no telling, either.
• Time management – make time to write, and have a life, too.
• How To Write Gooder – Here are some general rules (better known as guidelines) for good writing.  Rules are made to be broken, but if you're going to break the rules, please know them first, so you can break them well.
• Giving your characters character – bring your characters to life and make them real enough for your reader to be their friend… or enemy.
• When to start, and when to say the end – start your story where the story really starts, and when it's over, know when to say The End and mean it.
• Using humor in your writing, or not…. learn hints and tips, but no stand up jokes.
• Plotting – make a plot, make it work. There are guidelines experienced authors know that make a plot work for them, instead of against them. Slightly different for the Panster vs the Plotster, guidelines work. Yes, they can be broken, but before you break them know how they work so you can break them well.
• See it smell it taste it hear it feel it -and then put it in your novel. (workshop includes a powerpoint presentation)
• Unblocking Writers Block – a few methods to get the creative juices flowing again
• Scene and Sequel, keep raising bar and keep your story rolling until it's time to do or die, then don't die. • Setting – Why it is so important to your story, and ways to enhance setting to make your story better.
• Outlining or SOTP or a combination of the two. What will work for you?
I've written a few articles for The Bookwriters Network, click here to read them.
I still think that Techniques of the Selling Writer by Dwight Swain is the best book on writing. Click on the link below if you would like to buy a copy.
If you are already in a writing organization and are looking for a keynote speaker or workshop teacher for a writers conference on these or any other workshop topic, I'd love for you to contact me and I can work that into my travel schedule. If you have a topic you need for a workshop that isn't listed here, again, contact me, I'd love to work with you to meet your goal.
Once you're writing, most writers use Microsoft Word, but many use writing software that helps outline, categorize, organize, and has many other useful features. I use and recommend Scrivener, and if you use these links, you can get a 20% discount on the regular license versions. Click here to email me for the discount code. You won't get the discount if you don't use the code I will give you.
Scrivener for Windows – discount link
Scrivener for Mac – discount link
But first, here is the link to download the trial version. You'll get 30 days to use the full version for free. I hope you like it as much as I do.
Scrivener for Mac and Windows – free 30 day trial
Happy Writing!