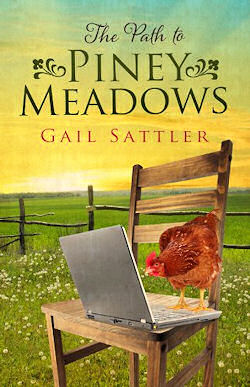 4 1/2 star review  Romantic Times
Finalist – The Word Awards writers contest, romance category, 2014 
The Path To Piney Meadows
Running from his frustrating life, Chad loses his way on Christmas Eve and soon
stumbles on the remote town of Piney Meadows. Before long, he falls in love with the people of the Old Order Mennonite community, accepts a job, and settles into the area. He is touched by the good people and their strong faith, even though he still
has a lingering dispute with God. Most of all, he is fond of Anna. The more he gets
to know her, the more he falls in love with her. But Anna is not happy in Piney
Meadows. The Mennonite community is changing, but it's not changing fast enough for her. She longs to move to Minneapolis to get a job, make her way in the world, and find herself. Chad doesn't want her to go, but Anna can only see the freedom she imagines she will get in the big city. When she's ready to leave he contemplates leaving with her, but a personal crisis shakes Chad to his core. Feeling let down by everyone—including God—Chad wonders if Anna will now desert him too.
Click here to buy THE PATH TO PINEY MEADOWS
Click here to buy THE PATH TO PINEY MEADOWS in kindle from Amazon.com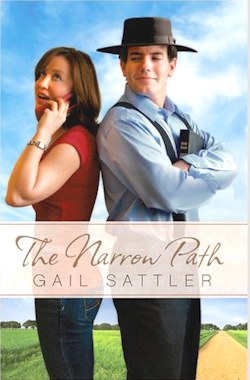 4 stars by Romantic Times
The Narrow Path,
a novel by Gail Sattler
ISBN 9781426702372
Miranda feels like she's been transported back to Little House On The Prairie, and Ted's head spins when Miranda reads the Bible on her cell phone. Yet Miranda Klassen and Ted Wiebe must find a way to make peace to meet their common goal to open the doors of Ted's Old Order Mennonite church and community. Will they also find love in the process?
Click here to see the book trailer!
Click here to buy The Narrow Path in paperback  from Amazon.com
Click here to buy The Narrow Path for kindle from Amazon.com
Click here to buy The Narrow Path in LARGE PRINT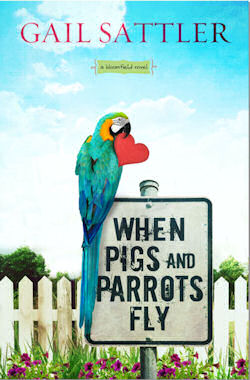 WHEN PIGS AND PARROTS FLY
Welcome to Bloomfield, where life is simple, love is real, and stories are shared.
Andy Barnhart's parrot Murray has always scared the children of Bloomfield, but when he starts scaring the adults, veterinarian Sarah Faire is reluctantly cast into the role of the Pet Whisperer. Soon all the locals want her help with their dysfunctional pets, leaving little time for Sarah to care for the sick and injured animals at her clinic.
Being best friends with Sarah's brothers, Josh Tavendish has always been fond of her, but when caught in the whirlwind with Sarah and Murray, 'like' turns to 'love', and he doesn't know what to do about it.
Instead of leading her down a trail of romance, Josh finds himself following Sarah on a wild parrot chase through Bloomfield — from the tea room to the beauty salon to the police station, and more! At the end of the trail Sarah catches Murray, and Josh catches Sarah's heart in a marriage proposal.
Now the Bloomfield Garden Club must get ready for a wedding, but are parrots invited?
Click here to buy WHEN PIGS AND PARROTS FLY in kindle from Amazon.com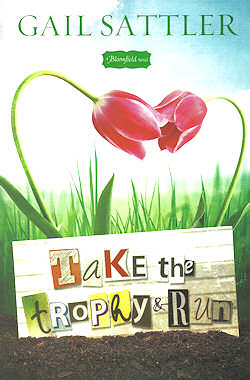 TAKE THE TROPHY AND RUN
Like Mitford and Lake Wobegon before that, Bloomfield is a place we could all call home. Here, the residents enjoy a splash fountain in the town square, dine at the "Fancy Schmantsy" on tree-lined Main Street, and dream of reaching the 10,000 population mark — only 22 more folks to go!
The Bloomfield Garden Club, an all-ages group of lovable oddballs that will stop at nothing to make everything beautiful, maintains this piece of heaven on earth. But even such idyllic places as this have their share of
dramatic characters and stories to be told.
Take, for instance, craft store owner Amber Weathersby. She wants to be a member of the garden club but has never received the blessing of a green thumb. Her friend, Stan the mechanic, has helped as much as he can — even adding a timed sprinkler system to Amber's garden — but the results never live up to the club's expectations.
Her only claim to fame with that gang is her semi-famous garden gnome, Gnorman, who gets to hold the prized trophy each year in the Bloomfield Spring Fling contest's winning garden.
But this year, instead of being the life of the party, her little star is gnomegnapped, and worse, the club's irreplaceable trophy has gone missing with him. While Amber is chasing the gnome around town trying to win the trophy, Stan is chasing Amber, trying to win her heart.
Click here to buy TAKE THE TROPHY AND RUN in paperback
Click here to buy TAKE THE TROPHY AND RUN in ebook
VANCOUVER
ISBN: 1586609637
(July, 2003)
What's the best thing about living in a beautiful modern city-being surrounded by buildings, people, and activity? Or just getting away from it all? Meet four women who hold differing views of life in Canada's jeweled city. . . .
  Roberta, desperate for some solitude in which to reevaluate her life, has left downtown and Gone Camping. But as a novice in the great outdoors, she finds herself depending on the local park ranger's assistance – again and again. If she can't be alone, how will she find true peace?
Molly works in Vancouver's business district. On her new boss's first day she accidentally breaks his arm – and soon is caught up in rumors of a "tawdry affair." Can she save her job by keeping romance At Arm's Length?
Gwen's summer job – helping to drive her uncle's semi trucks – takes her away from the city, across the Canadian border, and On the Road Again. Reluctant to be paired with a handsome co-driver, can Gwen maintain a friendly distance until they get the job done and return home? 
  Patricia, helping at her father's Vancouver church, hears My Name Is Mike whenever she takes a recovering alcoholic to his mandated meetings. Can she give him guidance toward a better life without entangling her heart?
Laugh and cry with these resourceful Canadian women and watch how faith and love uphold them on the drifting currents of life.
Note, this is a reprint of 4 previous Heartsong Novels – Gone Camping, At Arm's Length, On The Road Again, and My Name Is Mike
Buy VANCOUVER at Barnes and Noble, or Paperback at Amazon.com, or for your Kindle at Amazon.com.