Love in Mistletoe Springs
A novella anthology collection by:
Lee Carver, Kimberly Rose Johnson, Lee Tobin McClain, Gail Sattler, and Ginger Solomon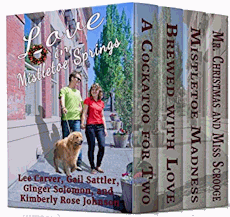 Trouble happens when the Mistletoe Springs animal shelter loses their grant. The only way to save it is by running a fundraiser with a Christmas in July theme. But this is easier said than done! See how the group of volunteers scrambles to get all the details together amidst trials and tribulations, struggling with details and organizing and life in general – and is it good or bad when love gets in the way?
This book was a lot of fun to do. As an independent publication we had a lot of leeway. One fun thing we did was make a map of the town, and the author who designed the map just happened to use our names for many of the main street. So I now have a street named after me, which is fun, even if it is fictitious.